NOTARY SERVICES
We charge $10.00 per notary. We also have a notary available for documents in Spanish, by appointment only. We do not provide this service at our Phoenix location.
Click Or Touch Here For More Information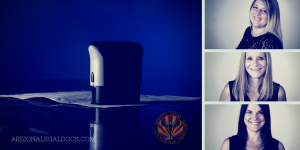 STATUTORY AGENT
Alyssa and/or Kellie will assist you with assigning Arizona Legal Document Services, LLC as the statutory agent for your company or corporation. We provide this service for $100.00, which is a one-time fee. We do not charge an annual fee like other companies.
Click Or Touch Here For More Information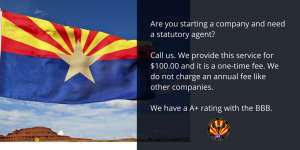 DOCUMENT RETRIEVAL
Our Document Retrieval services include obtaining certified divorce decree, certified marriage certificate and other certified documents. We utilize bike couriers in downtown Phoenix to expedite these services. Our Phoenix office is only two miles from the downtown courts, records room and the Maricopa County Recorder's Office. Our bike couriers are also able to quickly retrieve or deliver documents to the Arizona Corporation Commission and Arizona Secretary of State.
Click Or Touch Here For More Information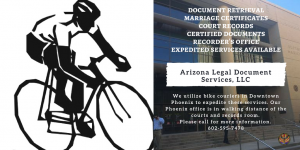 SERVICIOS EN ESPAÑOL
Cuando usted no puede pagar un abogado hay una alternativa. Preparación de documentos legales. Estamos certificados por la Corte Suprema de Arizona para preparar documentos legales. AZCLDP #81074
Click Or Touch Here For More Information