Document Retrieval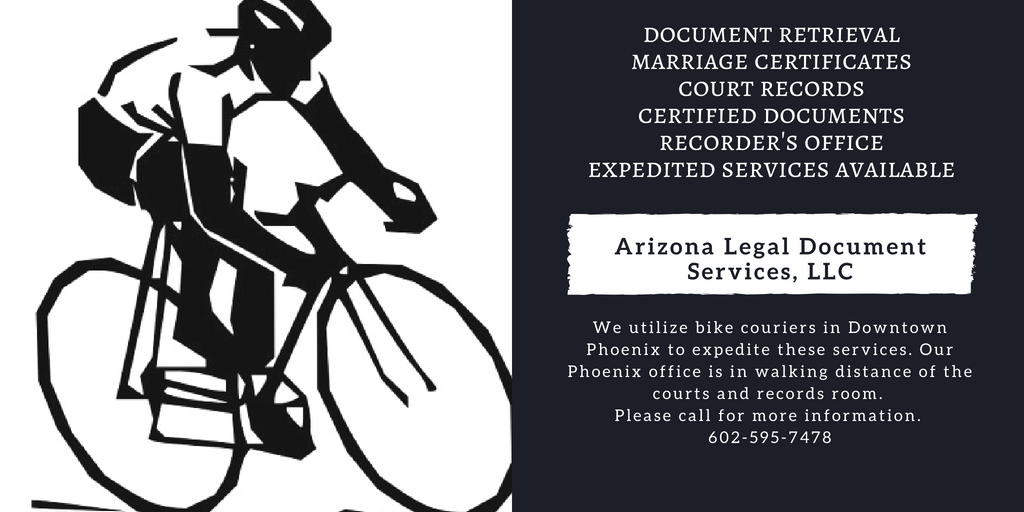 We assist with obtaining certified copies of documents from the records room in Maricopa County. Our Document Retrieval Services include certified divorce decree, certified marriage certificate and other certified documents. If you only need copies of court records in your own case, Document Retrieval Services are typically not required because you may open an ECR (Electronic Court Record) account to download and print most of the documents in your case. You may open an ECR account at Open ECR Account .
We also provide Document Retrieval Services to obtain copies of documents from cases where you are not a party to the case. We can have these documents printed or uploaded to a disc. You may view case dockets at the Maricopa County Superior Court for Family, Civil, Criminal and Probate cases at Public Access to Maricopa County Cases.  Juvenile records are not available to the public.
As part of our Document Retrieval Services, we can assist you with filing documents with the Court and recording documents with the Maricopa County Recorder's Office. Please call for more information regarding our services. 602-595-7478 or 480-307-9306
HELPFUL LINKS
Maricopa County Recorder's Office
We have an A+ Rating with the BBB. Check out our A+ Rating and five star reviews!
Check out our Reviews from across the Internet!
SOCIAL MEDIA