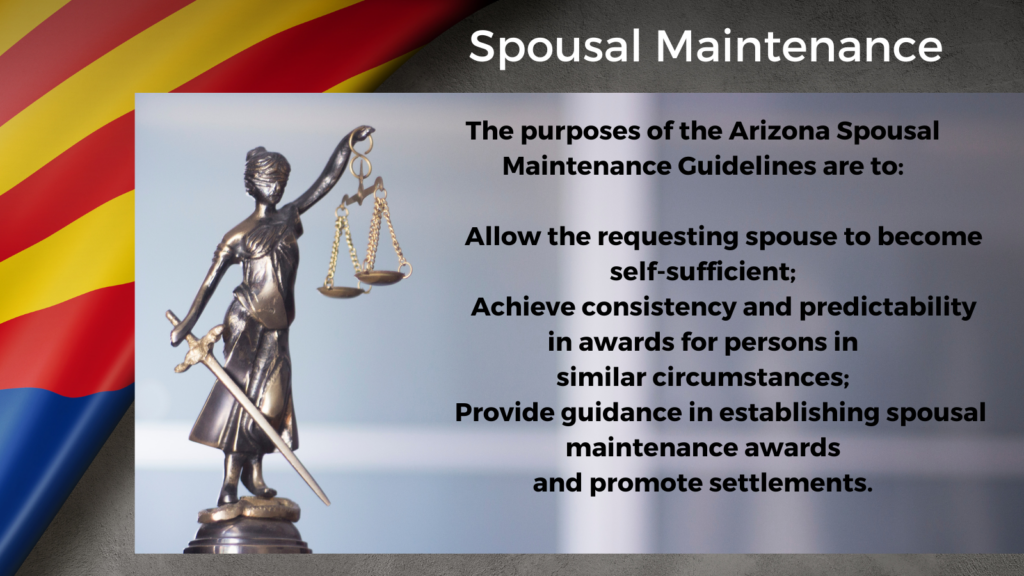 Arizona Supreme Court – Administrative Order No. 2023-119
The Spousal Maintenance Guidelines have been adopted by the Arizona Supreme Court.
The Administrative Order and Spousal Maintenance Guidelines may be viewed here:
https://www.azcourts.gov/Portals/22/2023-119_1.pdf
The Spousal Maintenance Calculator is available at:
https://www.azcourts.gov/familylaw/Child-Support-Family-Law-Information/Spousal-Maintenance-Guidelines
Current Arizona Revised Statute:
https://www.azleg.gov/viewdocument/?docName=https://www.azleg.gov/ars/25/00319.htm
The amendments to A.R.S. § 25-319 did not substantively change the eligibility criteria in subsection (A). But under subsection (B), the law directs the Supreme Court to establish spousal maintenance guidelines and specifies that the courts "may award spousal maintenance pursuant to the guidelines "only for a period of time and in an amount necessary to enable the receiving spouse to become self-sufficient."
The purposes of the Arizona Spousal Maintenance Guidelines are to:
Allow the requesting spouse to become self-sufficient;
Achieve consistency and predictability in awards for persons in similar circumstances
Provide guidance in establishing spousal maintenance awards and promote settlements.
For more information or a referral to an attorney to obtain legal advice, please email kellie@arizonalegaldocs.com.