Statutory Agent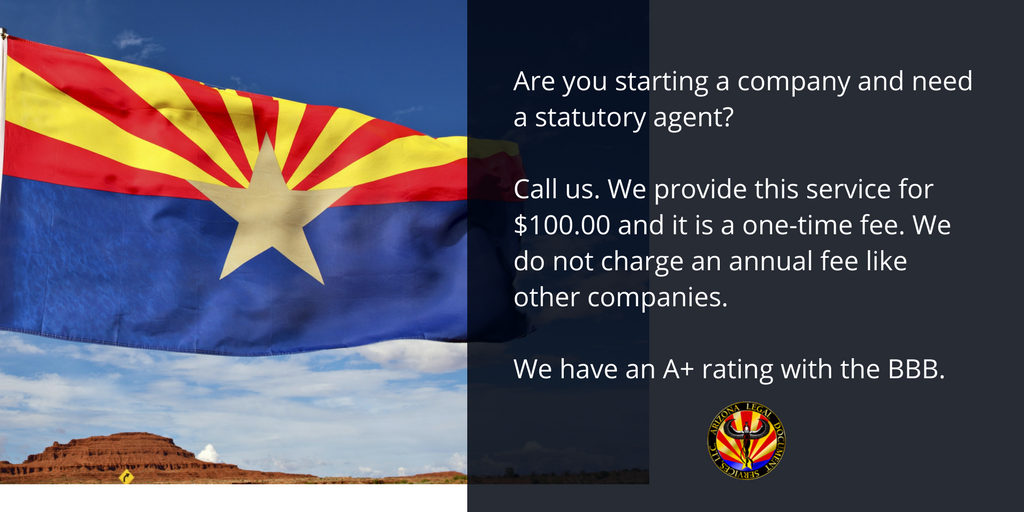 What is a statutory agent?
A Statutory Agent is an individual or a business entity that a corporation or LLC appoints for the purpose of
accepting service of process for the corporation or LLC.  The agent is called a "statutory" agent because a statute requires that the corporation or LLC appoint someone for this purpose. If, for example, a lawsuit is filed against the corporation or LLC, the Statutory Agent will be the one who is served, and then the Statutory Agent should give the papers to the corporation or LLC.
Who can be the Statutory Agent?
A Statutory Agent can be an individual, or an Arizona corporation or LLC, or a foreign corporation or LLC that is authorized to transact business in Arizona. A corporation or LLC cannot be its own Statutory Agent – it must appoint someone apart from itself. For example, the LLC can appoint one of its members or managers in his or her capacity as an individual as the statutory agent, but cannot appoint the LLC itself as the statutory agent.
If an individual is appointed as the statutory agent, that individual must be a permanent, full-time resident of the State of Arizona and must have a permanent, full-time physical or street address in the State of Arizona. The mailing address, if any, of that individual statutory agent must also be in Arizona. The statutory agent must accept the appointment in writing.
Statutory Agents are commonly known as Resident Agents in states outside Arizona. You may contact us by phone at 480-307-9306 or 602-595-7478. We have office locations in Mesa and Phoenix.
We also assist clients with forming LLCs and PLLCs.  LLC Formation
You may form your LLC online or at our Mesa or Phoenix locations. Form your LLC online
We have an A+ Rating at the BBB. You may check out our reviews from across the internet on our Reviews page HERE.
HELPFUL LINKS:
Arizona Corporation Commission